This page is the brochure for your selected program. You can view the provided information for this program on this page and click on the available buttons for additional options.
Universidad de Costa Rica, San José, Costa Rica
San Jose, Costa Rica
(Exchange Program) (Outgoing Program)
Featured:
Program Terms:
Academic Year,
Early Start AY,
Early Start Fall,
Early Start Spring,
Fall,
Spring

Program Sponsor:
University of Kansas
Courses Offered:
Click here to view
Program Cost:
Academic Year,
Early Start AY,
Early Start Fall,
Early Start Spring,
Fall,
Spring

Term

Year

App Deadline

Decision Date

Start Date

End Date

Spring

2015

10/15/2014 **

Rolling Admission

02/04/2015

07/19/2015

Early Start Spring

2015

10/15/2014 **

Rolling Admission

01/04/2015

07/19/2015


** Indicates rolling admission application process. Applicants will be immediately notified of acceptance into this program after a decision has been reached and will be able to complete post-decision materials prior to the term's application deadline.
Program Type:
Exchange
Housing Options:
Host Family
Study Abroad Program Coordinator:
Mari Keyser
Language of Instruction:
Spanish
Minimum GPA Eligibility:
3.0 GPA
Academic Discipline:
Accounting, Anthropology, Applied Behavioral Science, Art, Astronomy, Biology, Business, Business Administration, Chemistry, Classics, Communication Studies, Computer Science, Dance, Design, Economics, Education, Engineering, Environmental Studies, Film & Media Studies, Finance, Geography, Geology, Global & International Studies, History, History of Art, Information Technology, International Business, Journalism, Latin American Studies, Linguistics, Marine Science, Marketing, Music, Nursing, Philosophy, Physics, Political Science, Psychology, Public Administration, Social Work, Sociology, Spanish, Theatre, Urban Planning, Visual Art
Open to Non-KU students:
Yes
Open to graduate students:
Yes
Fulfills KU Core Advanced Education Goal 4.2 - Culture and Diversity:
Yes
(Photo courtesy of Duncan McHenry)
Program Overview
The University of Kansas program in San José, Costa Rica offers students the opportunity to directly enroll in classes at the Universidad de Costa Rica (UCR) while providing a well-structured introduction to the country, its culture and history. Students earn academic credit, improve their language skills, and experience Costa Rican culture and history firsthand by living with local families and participating in orientation activities and excursions.
Costa Rica
Costa Rica is known for its natural beauty, extraordinary diversity of flora and fauna, social and political stability, high educational levels, and efficient infrastructure and services. The capital of San José is a vibrant and cosmopolitan city. It lies in the Central Valley on a plain surrounded by large forested mountain ranges, some of which include active volcanoes, green savannahs, and working coffee plantations.
Universidad de Costa Rica (UCR)

(Photo courtesy of Andy Larkin)
The Universidad de Costa Rica was established in 1843 under the name Universidad de Santo Tomás. In 1940, it was restructured and re-named the Universidad de Costa Rica. It is the oldest and largest university in Costa Rica, with a population of 35,000 students. The University of Kansas-Universidad de Costa Rica exchange program, initiated in 1958, is the oldest inter-university exchange of its kind in the Western Hemisphere.
Grupo de Kansas

& Staff
The Grupo de Kansas office is located on campus close to many UCR facilities with two Costa Rican staff members, Zaida Ugalde, On-site Program Coordinator & Isa Alcázar, On-site Assistant Program Coordinator.

Zaida Ugalde was born in La Fortuna, which is one of the most biologically diverse areas in the country. Some highlights of the town include the active Arenal volcano, waterfalls, hot springs, and plenty of hiking sites.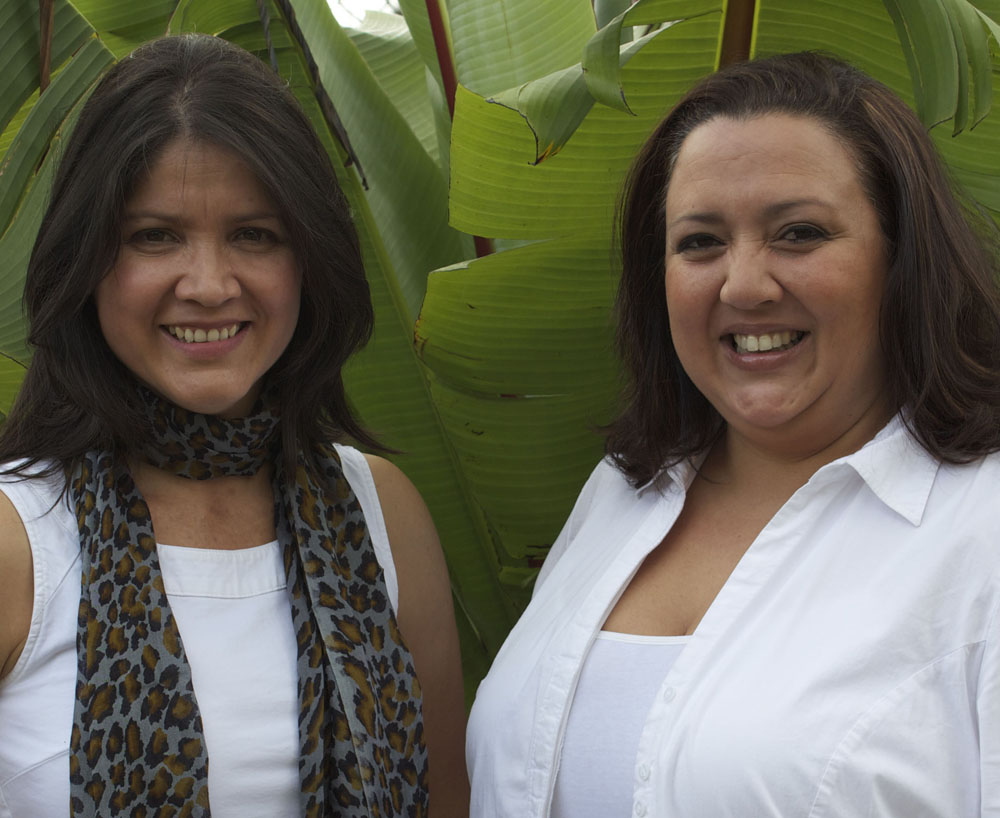 Zaida Ugalde, On-site Program Coordinator & Isa Alcázar, On-site Assistant Program Coordinator
Zaida graduated with a BA in Education from Saint Michael's College in Vermont and was granted an undergraduate Fulbright scholarship for her studies. She holds a Master's degree in Latin American Literature from the Universidad de Costa Rica. She joined the KU Office of Study Abroad in 1994 as a program assistant for the Grupo de Kansas and then became On-site Program Coordinator. She has traveled extensively throughout Central America, loves gardening, TED lectures, hiking, and coffee, which she is trying to grow herself.

María Isabel Alcázar (Isa) was born in Chile but her family decided to make Costa Rica their new home.

Isa graduated from the Universidad de Costa Rica as an English major and later did graduate studies in Linguistics. She started working with the KU Grupo de Kansas in 1994 as an intercultural communication instructor and a year later became the On-site Assistant Program Coordinator. She continues teaching at the Universidad de Costa Rica and one of her main goals has been to increase volunteer opportunities and community service for students. She is very knowledgeable of activities at UCR as well as off-campus.

Zaida and Isabel's duties include advising students on matters related to academics, enrollment, student visas, volunteer opportunities, housing, and medical and non-medical emergencies. They organize an intensive in-country academic and cultural orientation with classes, lectures, and excursions. They also serve as liaisons between UCR and the KU Office of Study Abroad and coordinate all the logistics for KU short term study abroad programs in Costa Rica.
Eligibility
The program is open to students from any accredited U.S. college or university, sophomore through graduate levels. Applicants must have a minimum 3.0 GPA and at least 4 semesters of college-level Spanish (or the equivalent). Students with 4 semesters of Spanish are required to enroll in the Early Start Program; it is optional for students with 5 or more semesters of Spanish. KU Spanish majors must have completed SPAN 340 successfully prior to participating in the program.
Academics
The San José program can be divided into three parts: the Early Start Program, the On-Site Orientation, and Courses at UCR.
Early Start Program
The Early Start Program is a one-month intensive Spanish course for which students will earn 3 credits of SPAN 170, SPAN 270, or SPAN 370, dependent upon their language level. Students with 4 semesters of college-level Spanish (or the equivalent) are required to enroll in the Early Start Program. It is optional for students with 5 or more semesters of Spanish; however, many choose to participate in order to improve their language skills and spend an extra month in Costa Rica.

There will be a question on the online application where students will indicate if they would like to participate in the Early Start Program or not.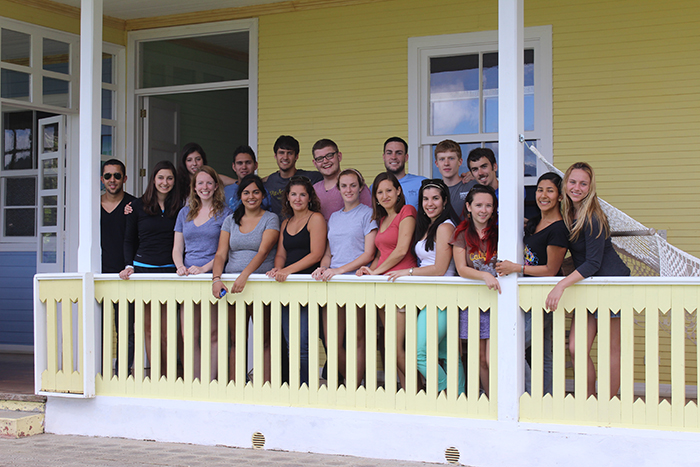 (Photo courtesy of Andy Larkin)
Early Start Program Scholarship
KU degree-seeking students who decide to participate in the Early Start Program before their semester at UCR will be awarded a $1,200 scholarship. The scholarship covers most of the expenses (tuition, room and board, on-site assistance, and an excursion) for the program. Interested students should complete the

Costa Rica Early Start Program Scholarship Fund

application.
On-Site Orientation
The On-Site Orientation is a one-month required course for all students participating in the program. It is designed to prepare students for the challenges of rigorous academic work in a foreign language and culture. The orientation provides a cultural and historical introduction to Costa Rica through lectures and excursions, with an emphasis on upper-level academic writing skills. Orientation excursions usually include trips to art museums, the Central Market, the National Theater, volcanoes, waterfalls, the rainforest, and beaches on the Pacific shore. Students may, among other activities, interview ticos (Costa Ricans) from different parts of Costa Rica on weekend excursions, put on skits, learn how to utilize the UCR library, and be introduced to traditional dances. Students will receive 3 hours of credit of SPAN 370 Hispanic Language and Civilization I.
Check out the CNN video highlighting Costa Rica and pay particular attention to the hot springs because sometimes the group goes there on one of the orientation excursions!
Semester at UCR
Costa Rica follows the Southern Hemisphere academic calendar which means that fall semester begins in late August and ends with final exams in early December; the spring semester begins in early March and ends with final exams in early July. This means that there is a 2 week break in July and a month and a half break in December. Students who want to study in Costa Rica for a year may want to consider studying a consecutive spring and fall term with the two week break in between. Students may also study in the fall and spring, but need to know that housing isn't provided from mid-December to the end of January because of UCR's summer break. Students could use this time to return to the United States or travel. Sometimes it is possible to stay with the host family during the break, but it can't be guaranteed.

A normal course load is 12-18 hours, which is 4-6 classes. With a few exceptions, the number of credits a course is worth at UCR will be the same as the hours of credit received for the equivalent KU course. Credit and grades for all UCR courses in which a student is enrolled, including orientation, will be posted on his/her KU transcript. Course offerings vary from semester to semester. It is not possible to guarantee that a course will be offered during a particular semester. Program participants should have 8-10 courses in a wide variety of departments approved by their home institution prior to arrival in San José. Enrollment in graduate courses at UCR is limited to graduate students and requires the permission of the professor.

Important Enrollment Information
UCR Fall 2014 Schedule of Classes
UCR Spring 2014 Schedule of Classes
Student Life

(Photo courtesy of Andy Larkin)
Students usually complement their studies by planning weekend excursions or joining University-sponsored activities, such as sports teams, volunteer activities, or cultural events. University Week, held each year in the spring, provides an opportunity for the academic departments to compete in sports, put on shows, and sponsor on-campus dances and festivities.
Volunteer Opportunities
Students are encouraged to participate in community volunteer work, coordinated by the Grupo de Kansas office, during their free time. This may include working in orphanages, teaching English to adults, and volunteering in schools. Students can also opt for a month-long volunteer program (before or after the UCR semester) at one of the Costa Rican National Parks through ASVO. This is a great opportunity for biology, ecology, or tropical studies students. Students are responsible for their own room and board costs during the program. For more information about volunteer opportunities, contact the KU Office of Study Abroad.
Accommodations
Students live in private homes with Costa Rican families to help them improve language proficiency and immerse them in Costa Rican life. Three meals are provided daily. Most students use the very reliable, inexpensive city bus system to travel from their residence to the University.
Financial Aid
KU students who qualify for summer financial aid in the form of Stafford and/or other loans, Pell or SEOG Grants, and scholarships may apply the aid to the cost of a Study Abroad Program.
KU Study Abroad supplemental scholarships are available to KU degree seeking students. Applications are available online. The scholarship application deadline is October 1 for Spring programs and March 1 for Fall & Academic Year programs.
Application Procedures
All applicants will be required to complete several documents for each study abroad application. Below is a list of documents that will need to be completed for an application.
a. Statement of Purpose
b. Verification of Minimum GPA Requirement
c. Academic Plan and Approval Form
d. Autobiography
e. Early Start Preference
f. Costa Rica Course Selection
g. Costa Rica - Program Length
h. Student Photo Upload
i. Official Transcript
j. 1 General Recommendation and 1 Language Recommendation
k. Authorization to Release Student Information
l. Student Conduct Verification
For more detailed information about the application process, please visit our Application Process page.
Useful Websites
KU Department of Spanish and Portuguese

Universidad de Costa Rica website

Duncan McHenry's Travel Journal - Spring 2013 University of Kansas Participant
Andy Larkin's Blog – Spring 2013 University of Kansas Participant

Jackie Langdon – Spring 2014 University of Kansas Participant

| | |
| --- | --- |
| Overall Experience: | |
| Academic Experiences: | |
| Cultural Experience: | |
Kimberly Jeanne Pollock, Spring 2014 Participant
It was cool to see how much your Spanish skills improve simply by using it everyday with your host family, friends, professors, etc. It's frustrating at first when you can't get out exactly what you'd like to say, but with time, patience and lots of practice your Spanish improves drastically.
Seth Michael Brooks, Early Start Spring 2013 Participant
The moment when I realized I could now joke with native speakers was a very rewarding one. I realize now I can connect with Spanish speakers in a way I couldn't before. Also, from all of my short trips that I took and planned, I now feel a new confidence as a traveler. I feel like I could plan a backpacking trip in any part of the world, with the skills I acquired.
Spring 2012 Participant
Taking classes all in Spanish and only speaking Spanish at home had a huge impact on my ability to communicate and understand Spanish.
Read All reviews of this program